Day 2 :
Keynote Forum
Dartmouth Hitchcock Medical Center, USA
Time : 09:30-10:10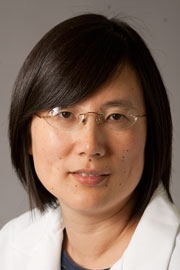 Biography:
Shaofeng Yan has received her MD degree from Peking Union Medical College and PhD degree from University of Washington at Seattle. She has completed Anatomic and Clinical Pathology Residency at Dartmouth Hitchcock Medical Center and a combined Harvard Dermatopathology Fellowship at Massachusetts General Hospital, Brigham Women's Hospital and Beth Israel Deaconess Hospital. She is currently the Director of Dermatopathology Section and Program Director of Dermatolopathology Fellowship Program of the Department of Pathology at Dartmouth Hitchcock Medical Center.
Abstract:
Melanoma is one of the most aggressive types of skin cancer. Histopathological criteria sometimes may be inadequate in differentiating difficult melanocytic lesions. Treatment for advanced melanoma cases still remains elusive. New development in molecular testing technologies is useful for improving diagnosis. New therapeutic approaches based upon a growing understanding of the underlying molecular abnormalities have been used in advanced malignant melanoma recently. Single nucleotide polymorphism (SNP) microarray analysis can accurately detect copy number changes and aid in improving differentiation of malignant melanoma from benign melanocytic proliferation. Next-generation sequencing (NGS) technologies have enabled detection of key genetic mutations for targeted therapy. Here we share our experience of application of SNP microarray analysis in differentiation of malignant melanoma from benign melanocytic proliferation. Furthermore using NGS testing for a 50 gene panel, we have identified numerous variable mutations, which may represent potential targets for future therapies in patients with advanced melanoma.
Keynote Forum
African Cancer Institute, South Africa
Time : 10:10-10:50

Biography:
Professor Vikash Sewram is the Chairperson of the Ministerial Advisory Committee on the Prevention and Control of Cancer in South Africa, the Founding Director of the African Cancer Institute and Professor of Community Health at the Faculty of Medicine and Health Sciences, Stellenbosch University, South Africa. He obtained a PhD degree in Medicinal Chemistry and Physiology from the University of Natal in 1998, an MPH in Cancer Epidemiology (with distinction) from the School of Public Health and Family Medicine, University of Cape Town, in 2002, and a PhD in Public Health: Cancer Epidemiology from the same university in 2007. In 2009 he was nominated to the Academy of Science of South Africa and, in 2014, to the Permanent Scientific Committee in the Oncology Section of the World Organization for Specialized Studies on Diseases of the Esophagus. He has spent time abroad as visiting scientist at the International Agency for Research on Cancer in Lyon, France; School of Public Health, University of Michigan, USA; and the Cancer Council NSW in Sydney, Australia. His research achievements have earned him 10 national and nine international research awards, and have resulted in numerous national and international collaborations, peer-reviewed publications, research grants and postgraduate student supervision.
Abstract:
Age standardised incidence rates of 15.88/100 000 and 12.68/100 000 for melanoma in South Africa have been reported nationally for Caucasian men and women respectively. The incidence rates in the Cape Town region of the Western Cape Province however are in excess of 60/100 000. Cutaneous melanoma (CM) has the highest incidence in Caucasians, followed by the persons of mixed ancestry and a considerably lower incidence in both the Black and Asian population. Over the years, the rates of melanoma has been increasing and to further study this disease the African Cancer Institute (ACI) at Stellenbosch University has embarked on the establishment of a melanoma research platform that encompasses primary prevention, behavioural sciences, genomic research, and public policy. Despite numerous treatment options becoming available, drug access remains a limiting step and melanoma prevention and control remain a core focus through the extensive network of partners within the public and private sector organizations.
Research within the Division of Dermatology has commenced on the molecular biology of hand and foot melanoma, also known as acral melanoma (AM), which appears to be a clinically distinct variant of melanoma. This variant of melanoma represents the most common expression of melanoma in the Black population, and has a 5-year survival rate of 80.3%, lower than for other forms of melanoma. This is thought to be a result of delays in diagnosis. AM is also thought to have unique patterns of genetic mutation, when compared to other forms of CM. The current studies aim to identify molecular alterations that drive tumorigenesis in AM in Southern Africans. It is anticipated that this study will help classify high from low risk AMs followed by the development of a molecular predictive test and to characterize the clinical and histological features of AM in our population.
By harnessing the collaborative intellect of individuals, groups and institutions throughout the region and abroad, the ACI seeks to strengthen and accelerate the translation of melanoma control knowledge into public health action.
Keynote Forum
Reconstructive Surgery and Anti-aging Center, Japan
Time : 11:10-11:50

Biography:
Yohei Tanaka is one of the leading Plastic Surgeons in Japan. He directs his clinic, Society for Near-infrared Rays Research and International Photobiological Society. He conducts many researches as a Visiting Professor of Niigata University of Pharmacy and Applied Life Sciences and Lecturer of Tokyo Women's Medical University. He has published over 20 peer-reviewed papers in English and has edited 2 international open access books regarding near-infrared. His goal is to discover the most effective near-infrared wavelengths for rejuvenation and anti-cancer therapy and to further study solar near-infrared and how best we can protect ourselves against its photoaging.
Abstract:
Over half of the solar energy consists of near-infrared and intensive or long-term solar near-infrared exposure induces photoaging. Despite the wide prevalence of a variety of ultraviolet blocking materials, such as sunscreen, sunglasses, glasses, films, umbrellas and fibers that are useful in protecting the skin against ultraviolet exposure, solar near-infrared cannot be blocked and the necessity to protect against solar near-infrared has not been well recognized. Solar near-infrared can penetrate the skin and the sclera and affect the deeper tissues, including muscles, lens and retina with its high permeability. I have elucidated that solar near-infrared can induce various biological effects. Continual long-term exposure to solar near-infrared performs as an aging factor. Consequently, solar near-infrared can induce various kinds of tissue damage and diseases such as undesirable photoaging, long-lasting vasodilation, long-lasting muscle thinning, sagging and skin ptosis and potentially photocarcinogenesis, when biological solar near-infrared protection is not achieved. To clarify the necessity to protect against near-infrared, I assessed cell viability of human fibroblast cells after near-infrared treatment using 2 sets of transparent polycarbonate plates, one to block ultraviolet and the other to block both ultraviolet and near-infrared. The cell viability was significantly decreased after near-infrared irradiation in near-infrared treated cells without a protective polycarbonate plate and near-infrared treated cells using the polycarbonate plate that only blocked ultraviolet, whereas both ultraviolet and near-infrared protected cells were not damaged. Therefore, I believe that protection from not only ultraviolet but also near-infrared should be considered to prevent tissue damage