Day 2 :
Keynote Forum
University of Texas MD Anderson Cancer Center, USA
Time : 09:00 to 09:30

Biography:
Michael Migden is a distinguished US-based Dermatologist and an Associate Professor, Departments of Dermatology, Division of Internal Medicine, and Head and Neck Surgery, Division of Surgery, at the University of Texas MD Anderson Cancer Center, Houston, TX, USA. At MD Anderson, he is a Program Director of the ACGME Fellowship: Micrographic Surgery and Dermatologic Oncology. He also serves as a Faculty Member in the Department of Ophthalmic Plastic and Reconstructive Surgery. He has served as a Principal Investigator for studies on the smoothened inhibitors sonidegib, vismodegib, and taladegib, and on immune therapy trials in non-melanoma skin cancer. He has published numerous primary and expert review articles on basal cell carcinoma.
Abstract:
The 200-mg dose of sonidegib, a selective smoothened inhibitor that blocks hedgehog pathway signaling, was approved in Europe and the United States for the treatment of patients with locally advanced basal cell carcinoma (laBCC) who are not amenable to curative surgery/radiation. Approvals were based on results from the pivotal BOLT study (NCT01327053). Investigator-assessed efficacy and safety data of sonidegib 200 mg QD from the 30-month analysis are reported here.
Methodology & Theoretical Questions: Patients with laBCC were randomized to receive sonidegib 200 or 800 mg daily; here we discuss the 200-mg dose. Investigators evaluated objective response rate (ORR); complete response [CR]+partial response [PR]), duration of response (DOR), and progression-free survival (PFS) per modified response evaluation criteria in solid tumors (mRECIST; laBCC) and RECIST v1.1 (mBCC); overall survival (OS) was also assessed.
Findings: In patients with laBCC who received sonidegib 200 mg (n=66), the investigator-assessed ORR was 71%. Disease control rate was 91%; median DOR was 15.7 months, with 25/47 responders maintaining an objective response. The median PFS was 19.4 months and the median OS was not yet reached. One death was reported; it was not considered related to study treatment by investigators. The safety profile of sonidegib 200 mg was manageable; however, grade 3/4 adverse events (AEs; 43%), AEs requiring dose interruptions/reductions (43%), and/or discontinuations due to AEs (30%) were reported. Commonly reported AEs included muscle spasms (54%), alopecia (58%), and dysgeusia (60%).
Conclusion & Significance: In the BOLT 30-month analysis, sonidegib 200 mg QD provided sustained efficacy and long-term safety in patients with laBCC. Notably, these data were investigator-assessed, which are typically higher than data that are centrally reviewed. These data support the use of sonidegib 200 mg in difficult-to-treat patients with laBCC according to local treatment guidelines.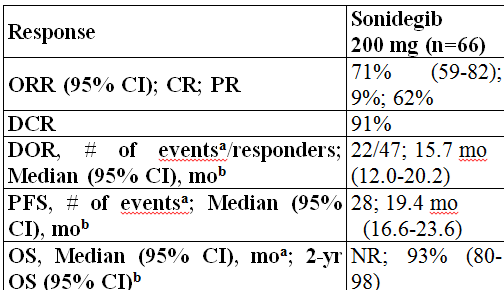 Recent Publications
1. Chen L, Silapunt S, Migden M R (2016) sonidegib for the treatment of advanced basal cell carcinoma: A comprehensive review of sonidegib and the BOLT trial with 12-month update. Future Oncol. 12(18): 2095-105.
2. Dummer R, Guminski A, Migden M R (2016) The 12-month analysis from Basal cell carcinoma outcomes with LDE225 treatment (BOLT): A phase II, randomized, double-blind study of sonidegib in patients with advanced basal cell carcinoma. J. Am. Acad. Dermatol. 75(1): 113-125.
3. Migden M R, Guminski A, Gutzmer R (2015) Treatment with two different doses of sonidegib in patients with locally advanced or metastatic basal cell carcinoma (BOLT): A multicentre, randomized, double-blind phase 2 trial. Lancet Oncol. 16(6): 716-28.
Keynote Forum
Dabur Research Foundation, India
Time : 09:30 to 10:00

Biography:
Anu T Singh is the Vice President (R&D) at Dabur Research Foundation, India. She holds a PhD degree in Tumor Biology from All India Institute of Medical Science, Delhi and did her Post-doctoral research in Cell Signaling from National Institute of Immunology, Delhi. She has published and presented more than 60 research papers in peer reviewed journals and scientific meetings. She has extensive experience in the area of oncology, inflammation and dermapathology.
Abstract:
Eczema or atopic dermatitis (AD) is a common chronic or recurrent inflammatory pruritic skin disease with impaired skin barrier with itchy, red, swollen, and cracked skin. Skin lesions are characterized by infiltrating lymphocytes, monocytes/macrophages, eosinophils and over secretion of inflammatory cytokines/chemokines. Thymus and activation regulated chemokine (TARC) is overexpressed in eczema lesions and attracts Th2 cells. IgE and IgE-mediated mast cell, and eosinophil activation contribute to severity of eczema. Current management strategies include oral medications, steroid creams and light therapy. There is an unmet need for development of herbal based therapeutic agents with anti-AD potential. We have developed a novel aqueous mixture (SIRB-001) consisting of 3 traditional Chinese medicine (TCM) based herbs; Rheum palmatum L. (Da Huang), Rehmannia glutinosa Libosch (Sheng di huang) and Lonicera Japonica (Jin yin hua) in the ratio 1:1:3. SIRB-001 has previously demonstrated promising anti-psoriatic activity in pre-clinical and clinical studies. SIRB-001 led to inhibition of hyper-proliferation, induction of apoptosis in keratinocytes, inhibition of cytokines in keratinocytes and immune cells. SIRB-001 cream was developed and potential clinical efficacy was observed in psoriasis and scalp psoriasis. SIRB-001 was further tested for efficacy in eczema and AD using pre-clinical models. SIRB-001 demonstrated significant inhibitory effects on secretion of inflammatory cytokines, TNF-α, IFN-g, IL-6 and chemokine TARC in keratinocytes (HaCaT). Vascular endothelial growth factor (VEGF) causes hyperpermeability of blood vessels and endothelial cell proliferation, leading to persisting erythema and edema in AD. Inhibition of VEGF secretion by HaCaT indicates anti-angiogenic role of SIRB-001. Downregulation of IL-6 in RAW264.7 cells and IgE in human myeloma cell line-U-266 were observed. Janus-Kinase (JAK) is involved in cell signaling pathways activated by cytokines. SIRB-001 exhibited an inhibition of JAK-1/JAK-3 in vitro. In conclusion, based on the observed mechanistic action, SIRB-001 may be a highly effective new treatment for management of atopic dermatitis and eczema.
Keynote Forum
Dabur Research Foundation, India
Time : 10:00 to 10:30

Biography:
Manu Jaggi holds a Doctorate in Cancer Biology from National Institute of Immunology, Delhi and Post-graduate in Pharmaceutical Sciences. He is the Chief Scientific Officer of Dabur Research Foundation (DRF). He has extensive experience in the area of skin-care biology and screening of variety of cosmeceutical agents. He holds more than 100 patents and has published and presented more than 150 research papers in peer reviewed journals and scientific meetings. A comprehensive range of screening assays for studying the skin-health and anti-aging potential has been developed.
Abstract:
Atopic dermatitis (AD), also known as atopic eczema, is a type of inflammation of the skin (dermatitis). It results in itchy, red, swollen, and cracked skin. Current management strategies include oral medications, steroid creams and light therapy. We have developed a novel aqueous mixture (SIRB-001) consisting of three traditional Chinese medicine (TCM) based herbs; Rheum palmatum L. (Da Huang), Rehmannia glutinosa Libosch (Sheng di huang) and Lonicera Japonica (Jin yin hua) in the ratio 1:1:3. SIRB-001 based cream was developed and found to be highly safe in animal studies. SIRB-001 has previously demonstrated promising anti-psoriatic activity in pre-clinical models and clinical efficacy in psoriasis and scalp psoriasis. SIRB-001 exhibited anti-eczema properties in cell based models. Inhibition of cytokines and IgE was observed in keratinocytes (HaCaT)/immune cells and myeloma cell line-U-266, respectively. Inhibition of JAK-1/JAK-3 was induced by SIRB-001. Encouraging preclinical results paved the path for clinical investigations in atopic dermatitis. The efficacy, safety and tolerance of SIRB-001 cream were examined in 6-week clinical-dermatological application test in 25 subjects suffering from mild to moderate AD. With twice-daily application, SIRB-001 was very well tolerated and led to significant inhibition (p<0.001) in eczema area and severity index (EASI) with reduction of erythema, induration, excoriation and lichenification at 4 weeks and 6 weeks. Efficacious effect and tolerability of SIRB-001 cream was also evaluated in subjects with eczematous lesions in a mono-centric, open label study with twice daily application for 4 weeks. SIRB-001 cream demonstrated significant (p<0.001) decrease in eczema severity index (ESI), investigator's global assessment severity (IGAS) and was well-tolerated in human patients with a good safety profile. Inhibition of cytokines contributing to pathogenesis of AD; IL-8, IL-17A, TARC in serum samples was observed. It can be concluded that SIRB-001 is a highly effective new treatment with favorable safety profile for management of AD.
Bacterial Skin Infections

Chair
Thomas Haffner
Vascular and cosmetic surgeon, Germany
Co-Chair
Michael R Migden
University of Texas MD Anderson Cancer Center, USA
Session Introduction
2Al-Khums Teaching Hospital, Libya
Time : 10:45 to 11:10

Biography:
Dr. Giuma Mohamed Saleh Elhadar is one of the leading Dermatologists in Al-khoms Teaching hospital, Al-khoms, Libya. Dr. Giuma Mohamed Saleh Elhadar was born in Al-khoms, Libya on 1st January 1967. He has graduated his Medicine in Al-Arab Medical University, Benghazi, Libya in the year 2000. After his study, he had undergone his internship in the Jamahiriya Hospital, Benghazi. He later started his work career in Jamahiriya Hospital, Benghazi from 2001 to 2003. Since end of 2003, he continues his job as Dermatologist in Al-khoms teaching hospital, Al-khoms, Libya. Dr. Giuma is now working as a Chief Dermatologist in Al-khoms Teaching Hospital, Al-khoms, Libya. He also works as a Director of Leishmaniasis in Al-margib Province, Libya since 2004. During this period, he is managing well to control the Leishmaniasis with his excellent knowledge. He has participated in many Seminars and conferences related to Parasitology and Dermatology. His research papers are published in National and International Journals and Proceedings.
Abstract:
Cutaneous leishmaniasis (CL) is a parasitic disease which is endemic in the Mediterranean region, including Libya and it is considered as main public health problem. Treatment of CL now a day's become a challenge to the scientists over the world. Pentostam has clinical efficacy against CL. Because of the limited data on the treatments used for CL in addition to undesirable side effects, there has been a demand for alternative therapies for CL. The objective of this study was to evaluate the efficacy of the used remedy regime to treat the CL patients in Libya. We found that local and systemic Pentostam for CL are useful and well tolerated. Combination of local Pentostam and cryotherapy improved the chances of rapid healing of lesions. Because some of the CL lesions heal spontaneously without treatment, decisions regarding additional therapy that heal lesions faster and prevent relapse must be taken into consideration. Therefore, we believe that further clinical studies needs to be conducted with cryotherapy in combination with other local medication.
SS Institute of Medical Sciences & Research, India
Time : 11:10 to 11:35

Biography:
Shruti Kakar is working as a post graduate in the department of dermatology . Her compassion and ability to take care of the patients make her stand out from her peers. She can put into practice all her theoretical knowledge and correlate the basic sciences with complex procedures. Her strong foundation at Lady Hardinge Medical College , New Delhi has paved the way for a great clinician.
Abstract:
Statement of the Problem: Acne is a chronic inflammatory disease of pilosebaceous glands. It is known to occur in adolescent age group suggesting a hormonal influence1. Recent studies have also implicated the role of diet in the pathogenesis of acne2. Although a common disease, it is a known cause of distress and depression if left untreated. Since it has a multifactorial causation, the knowledge , attitude and practices regarding acne hold a major significance in the etiopathogenesis and outcomes of acne patients. Our study was conducted to peek into the psyche of indian patients regarding acne and thus trying to improve the compliance and practices regarding acne.
Methodology & theoretical orientation:
The study was conducted between January 2016 to April 2016 in Skin OPD of SS Institute of Medical Sciences And Research Centre, Davanagere, Karnataka. 50 patients having acne lesions with 50 age and sex matched controls were taken for the study.
Findings:
Most of the cases were between 15-24 years of age( 73.33%). Majority were females(53.33%). The study showed that 60% of cases and 26.66% controls had good knowledge about acne. 65.21% questions were answered correctly by cases and 47.92% questions were answered correctly by controls. 60% cases and 56.66% controls had favourable attitude towards acne. The correlation between knowledge and attitude was highly significant among cases( p value 0.001) whereas, it was significant in controls( p value 0.018).
Conclusion & Significance:
Acne is one of the most common disorder not just among adolescents but is increasingly seen in older age group also. Despite being so common and very well responsive to treatment, it is a major cause of depression among patients. Many myths exist among patients. People believe in taking traditional medication and wait for spontaneous resolution leading to permanent scarring, when it could have been managed so well. As we observe in the study that knowledge, practice and attitude go hand in hand, thus improving the knowledge of public would improve the management and outcome of acne.
Recent Publications:
Adityan B, Thappa DM. Profile of acne vulgaris-A hospital-based study from South India. Indian J Dermatol Venereol Leprol 2009;75:272-8
Smith R N, Mann N J, Braue A, Makelainen H, Varigos G A. A low-glycemic-load diet improves symptoms in acne vulgaris patients: a randomized controlled trial. Am J Clin Nutr 2007;86: 107-15
Plewig G, Jansen T. Seborrheic dermatitis. In: Wolff K, Goldsmith LA, Katz SI, Gilchrest BA, Paller AS, 
Leffell DJ, editors. Fitzpatrick's Dermatology in General medicine, 7 th edn., New York: McGraw Hill 
Publishing; 2008. 219-25 

Clarke S, Nelson A, George R, et al. Pharmacologic modulation of sebaceous gland activity: Mechanisms and clinical applications. Dermatol Clin. 2007;25:137–146
Shaw J. Acne: Effects on hormones on pathogenesis and management. Am J Cordain L, Eades M, Eades M. Hyperinsulinemic diseases of civiliza- 
tion: more than just Syndrome X. Comp Biochem Physiol 2003;136: 
95–112 

Franks S. Polycystic ovary syndrome. N Engl J Med 2003;13:853– 61
S S Institute of Medical Sciences and Research Centre, India
Time : 11:35 to 12:00

Biography:
Gitika Sanodia is currently doing her Residency in Dermatology from S S Institute of Medical Sciences in Karnataka, India. She completed her MBBS from Nkp Salve Institute of Medical Science and Center, Nagpur, India. Her passion for Dermatology has driven her to present various papers and posters in national and international conferences. Her areas of interest are dermatosurgery, keloid, neonatal dermatology, infective dermatology and laser.
Abstract:
Background: With increasing life expectancy, the proportion of geriatric population is on the rise. Although nail diseases do not usually affect life expectancy, they are important in terms of quality of life and the morbidity that they may cause.
Aim: The aim is to study the pattern and clinical characteristics of nail changes in geriatric population.
Materials & Methods: A total of 300 patients aged 60 years and above were studied for nail changes associated with ageing. A detailed history of each elderly patient was taken along with general physical, nail and hair examination. Relevant investigations were carried out.
Results: Out of 300 patients the majority of patients 204 (68%) were found to be in the age group of 65 to 75 years, of these 59% were males and 41% females. Yellow to grey discoloration (73%) and lunula loss (42%) were the commonest changes. A variety of nail plate changes were observed out of which brittle nails were seen in 46% followed by onychauxis seen in 33% and onychocryptosis, in 23%. The most common contour change was platonychia in 32%, followed by pincer nails seen in 5%. Only 23% of the total nail changes were found to be of infective etiology.
Conclusion: Geriatric population is not just different in terms of age but also in the way they manifest the common diseases and the treatment options. In this study, we found the prevalence of nail changes and disorders has increased among elderly patients. It is thus, important to know the common nail diseases in order to be able to detect age specific nail changes and it is one of the important cutaneous markers for internal diseases.
Kangbuk Samsung Hospital - Sungkyunkwan University, South Korea
Time : 12:00 to 12:25

Biography:
Jae Yun Lim is a Resident of Dermatologic department of Kangbuk Samsung Hospital of Seoul, Korea. He is interested in Dermatopathology and Atopic dermatitis.
Abstract:
Lipidized dermatofibroma is a very rare variant of dermatofibroma (DF). Lipidized DF occupies 2.1% among the variants of DF. It preferentially affects the lower limb, so it has been called "ankle-type" fibrous histiocytoma. Clinically, it presents as a solitary large exophytic yellowish to brownish nodule. Histologically, it shows acanthosis, irregular elongation of the rete ridge and fibroblast-like spindle cells in storiform pattern which are characteristics of the DF. Moreover, it also contains abundant sclerotic collagen bundles surrounding foamy macrophages. Also, there is a hypothesis of relationship between serum lipid profile abnormality and lipidized DF. A 59-year-old female presented with asymptomatic solitary red to brownish 1.5 cm sized nodule on the left shin and solitary erythematous 1 cm sized nodule on the right calf, which were detected a year ago. Histological findings of the lesion revealed foamy macrophages surrounded by abundant sclerotic collagen bundles, distinctive stromal hyalinization, and spindle cells arranged in a storiform pattern. No cytologic atypia was observed. Abnormality of serum lipid profile was accompanied. Consequently, this case was diagnosed with lipidized DF.
Safe Beauty Clinic, Syria
Time : 12:25 to 12:50

Biography:
Rahaf Homsieh, M.D. is a specialised physician in General Dermatology. She graduated from Damascus University - Faculty of Medicine. She works in both public and private clinics includes research. She has skills and training in case reports, histopathology, cauterization, cryosurgery, phototherapy, minor surgery , botox, fillers, mesotherapy, PRP injection , alexandrite-yag laser , Q- switch laser , fractional laser , crystal and diamond peeling . She took successful clinical training courses at the American University of Beirut Medical Center. She participated in several conferences and events. She gives TV interviews about dermatology and beauty.
Abstract:
Acne vulgaris is very common, acne lesions include comedones, inflamed papules , pustules , and nodules. Acne typically involves areas with the largest number of pilosebaceous glands, the face, chest, and back. There are many suggested therapies include Tretinoin, antibiotics, oral contraceptives, spironolactone, etc.
Objectives : To compare the efficacy of oral Azithromycin pulsed therapy with daily Unicyclin in the treatment of acne vulgaris.
Patients and methods: A total of 15 patients of age group (before and after puberty ) were selected for the study . The cases were diagnosed clinically . The patients were divided into two groups (A=8 patients , B=7 patients ). Group A was treated with Unicyclin and group B was treated with azithromycin for a period of 3 months .
Results : In group A clinical response after 3 months was 81 % ,whereas in group B clinical response was 77% .
Conclusion: The present study showed that Azithromycin pulsed therapy almost equally effective with Unicyclin daily recognition.
Shahid Beheshti University of Medical Sciences, Iran
Time : 12:50 to 13:15

Biography:
Hedayatianfard K is a PhD student of Pharmacology in Department of Pharmacology, School of Medicine, Shahid Beheshti University of Medical Sciences, Tehran, Iran. His field of interest is fabricating ointment, cream, nano-fiber, hydrogel and wound dressing for wound healing. He has three patents (Iranian patent).
Abstract:
Keloid and hypertrophic scar are two types of fibrosis caused by extracellular matrix overexpression. Angiotensin II via AT1 receptor plays a key role in stimulation and development of collagen production and fibrosis. Less is known about the effects of angiotensin receptor blockers on reducing hypertrophic scar and keloid. It has been reported that expression of angiotensin II receptors is increased during wound healing. Several studies have shown that collagen content expression was inhibited by AT1 antagonists such as losartan.
Objective: The purpose of this research was to treat keloid and hypertrophic scar in patients by topical application of losartan potassium ointment.
Methods: A pilot single blind placebo-controlled clinical trial was designed and 33 healthy adult volunteers (Keloid=14 and hypertrophic scar=19) were randomly allocated between losartan potassium ointment and placebo groups. The patients used the ointments twice a day for 3 months and were evaluated each month for efficacy and adverse effects. Treatment was evaluated by Vancouver scar scale method before and 3 months after drug application.
Results: Out of the 33 patients included, 26 patients completed the treatment course. 7 patients of placebo group left the trial. Nobody left the study because of adverse effects. In losartan group, VSS scores decreased in comparison with placebo group, especially pliability score (p<0.001). No scar return was observed in losartan group 6 months after treatment final time.
Dr Moewardi General Hospital Surakarta - Sebelas Maret University, Indonesia
Time : 14:15 to 14:40

Biography:
Aulia Rahman is Derrmatovenereology Resident from Medical Faculty, Universitas Sebelas Maret (UNS), Surakarta, Central Java, Indonesia and Medical Doctor (MD) from Medical Faculty, Yarsi University, Jakarta, Indonesia. He is Member of Indonesia Medical Association (IDI) member of Indonesia Dermatovenerologist Association (PERDOSKI)
Abstract:
The follicular occlusion tetrad (FOT) is a clinical syndrome consisting of hidradenitis suppurativa, acne conglobata and dissecting cellulitis on the scalp, and pilonidal sinus. The syndrome is often severe disabling and resistant to therapy. The enforcement of diagnosis and appropriate treatment for all components of FOT is extremely important.